CD's:

Mazarin - Studio
A newly re-mastered collection of the bands most popular hits & recordings. Including: Slave To Rock N Roll, Rockers, Single, Living in New York, The Only One, I Can't Deny & All Alone.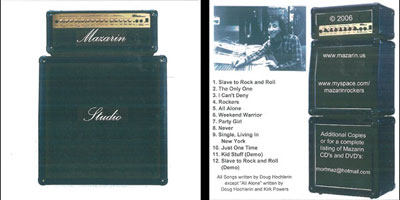 $15.00 plus $4.95 shipping & handling
Mazarin - The Sonic Sessions
Mazarin -Live in the Studio 1986! Includes: The Only One I'll Dance With, Rock It Up, Thinkin Of You, Smile, Ladies Game, How Do You Say Goodbye, Let Me Rock N Roll, Danger Zone and others!

$15.00 plus $4.95 shipping & handling

DVDs:

Mazarin - Live Labor Day at Rumrunners 1983
28 Live songs videotaped at Rumrunners in Oyster Bay LI.
A must have for every Mazarin fan! Produced by Tom "Morty" Mortensen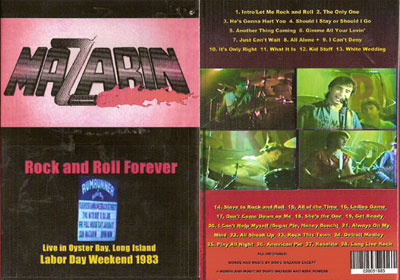 $20.00 plus $3.95 shipping & handling

Hats & Shirts:


The OK Club T-Shirt - $15.00
Black
R-U-OK? (front), The OK Club (back)
Papa Duke "Beer and Cigarettes Tour 2000" T-Shirt - $15.00


Black (limited quantities)




Hat - $12.00


OK Club (front), R-U-OK? (back)


Send your check or money order to:

Big M Entertainment
240 East 82nd St.
Suite 8F
New York, NY 10028

Include $5.95 for shipping and handling



Top