For Immediate Release:
MAZARIN "Live Forever" CD release concert party!
June 1st, 8pm. The Cutting Room, NYC
New York's legendary rockers "MAZARIN" take the Cutting Room stage Saturday, June 1st to celebrate the release of their new CD "Live Forever". Tickets on sale now at: http://tickets.thecuttingroomnyc.com/event/246957-mazarin-live-forever-cd-new-york/
A special concert performance and original recording inspired with love & dedicated to the living memory of friend, bandmate and one of a kind drummer Louie Appel.
Mazarin, a favorite of NY Rock & College Radio and featured artist at SXSW was voted NY's #1 Rock Band an unprecedented three times in the 1980's by Good Times Music Magazine and the groups original music is listed in the Long Island Music Hall of Fame.
The band, and it's fans the Mazarin "Rockers" are going four decades strong. Founded by brothers Doug & Marc Hochlerin Mazarin includes the songwriting and dynamic musical collaboration of Scott Duryea, Elliot Negrin & Wayne Sabosto.
Mazarin has performed thousands of "high energy", "get up out of your seat" live shows many of those a sold-out evening at NYC's Cutting Room.
The band has appeared with Mountain, Orleans, The Average White Band, Gary US Bonds, Rick Derringer, Joe King Carrasco, the members of Hot Tuna, KISS, The Jefferson Airplane, Quicksilver Messenger Service, The Billy Joel Band, Guns & Roses, The Jukes, Blackhearts, & countless others.
Mazarin original recordings now available on itunes & amazon and have been included on NY radio "best of" compilations with Bon Jovi, Twisted Sister & Zebra.
The band will be joined at the Cutting Room by very special guest artists: Ed Ryan, Michelle Penn, Ari Lesser, Glenn Mack, Lisa Ronson, Joey Perez, Ed Burnbaum, Bill Cantrall, Catlin Warbelow, Derek James & "Battalion Chief" Peter Gannon of the FDNY on the pipes!
With 16 new original tracks , Mazarin "Live Forever" available on iTunes, Amazon & CD Baby and at the Cutting Room on June 1st!

Confirmed Spring / Summer 2008 Dates:

Saturday, October 25, 2008 - 7:00pm
Big M Productions presents
Mazarin/Deep River Band Schreiber 2008 Reunion Concert
Featuring
Marc-Mazarin-Hochlerin**Sam White**Elliot Negrin
Jimmy Carr**Scott Duryea**Tim O'Connell
Ani Azoto**Allison Hefferin**
and your host Doug Hochlerin
With Invited Guests
Jim Fearn**Warren Weilbacher**Joe Morris**Fred Guarino
Kenny Musto**Dave Lewitt** Barry Waller**
at The Polish American Hall
5 Pulaski Place
Port Washington, NY 11050
Doors Open 7:00 / Show at 8
Tickets:
Call 516-883-5553 for Tickets
$35 online or at the door (cash only)
All Ages Welcome
Bar Service Available
Space is limited
If you'd like to use a credit card and avoid a sell-out
Advance Tickets Available NOW online at Ovation Tix



The show everyone has been waiting too long for! It's gonna' be some party………..

TICKETS ARE SELLING FAST---GET YOURS NOW!!


News:
October 2007
Greg "Mazarin" Marchak 1961-2007
"Some people come into our lives and quickly go. Others stay for a while and touch our hearts so deeply that we are never the same"
Greg was our soundman, road manager, producer, friend and brother. He was simply the best engineer we ever worked with and developed the classic Maz sound from the road and into the studio. Greg was with us through over 1500 shows in the 1980's. While we were writing and recording Greg would tell us if something was good or it sucked. He was a great blues guitarist, producer and had been living in Florida the past decade producing records, doing live sound and traveling the world with Jon Oliva and the guys from Savatage.
I had the blessed fortune of working with him twice in the past year. Once in Orlando where he did live sound for a room of 600 audio experts (who never heard anything sound that good) and then reunited with Mazarin for an incredible night of music at The Memory in Montauk in August. A photo tribute (below) to Greg with music recorded with & by him in Montauk a week before he passed.
He loved life, his family, his friends, and his lovers, his music, his politics, traveling and Mr. B his beloved kitty cat. There will never be another.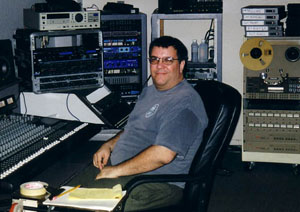 Click the photo above for photo tribute
Rock Me Baby-Recorded with MAZARIN at The Memory Motel August 2007.
Doug Mazarin, Marc Mazarin, Greg Marchak, Ani Azoto, Jim Carr, Tim O'Connell, Elliot Negrin & Sam White.
September, 2007



Mazarin to headline September 30th JDRF Free Concert in Battery Park, NYC! Info & press release.
April 1, 2007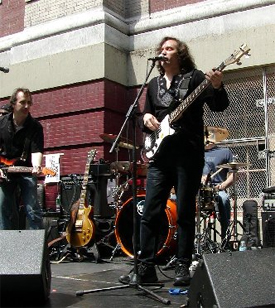 Barry with Mazarin at the 2006 NYC Fest w/ Zest

Barry Waller, longtime Mazarin member will be joining Ritchie Blackmore's touring band as bass player. We look forward to seeing Barry at some Mazarin shows when he's off the road. Links to Barry "The Baron St. James" and the Blackmore Tour site:
http://blackmoresnight.com/band_bios.html
barrywaller.com
myspace.com/barrywaller
Rock on brother J-Bally!
March 7, 2007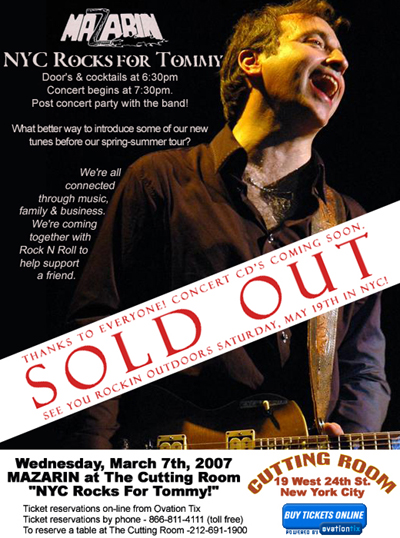 November 23, 2006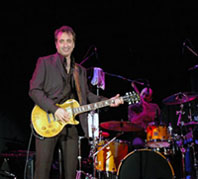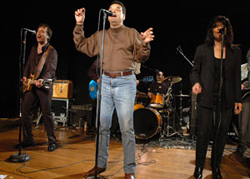 Mazarin & Gary U.S. Bonds at The Landmark 10/27/06 . http://goodtimesmag.com/952/local.html
http://usavoice.org/ARTS/Article.cfm?id=3149
Mazarin on You Tube! Courtesy of Morty Maz!!
http://youtube.com/watch?v=EI1fIv4ihY8
http://youtube.com/watch?v=0IeUluIz4H4
http://youtube.com/watch?v=rMp9qf9A5vw
http://youtube.com/watch?v=BgNTSy1Y7C4
http://youtube.com/watch?v=ioAgmLkxWCo
September 10, 2006
Les Paul? Gene Simmons? Flava Flav, Jerry Springer? Dog the Bounty Hunter?...... Mazarin?
Check it out at James "Beady" Edstrom's "Celebrity Photogragher" timesquaregossip.com http://timessquaregossip.com/2006/08/mazarin-slaves-to-rock-and-roll.html
July, 2006
The OK Club at The Memory Motel. Click here for photo slideshow.
April 1, 2006
The OK Club with Tony Bruno, Marc Mazarin, Doug Mazarin & special guests. Unplugged at The Crest bar in Woodstock NY April 1st 2006. Sweet!
Last Updated February 21, 2006
The OK Club at Manhattan New School
Sunday, March 26th, 2006.
Doug and Marc Mazarin & The OK Club at PS-290, The Manhattan New School Fundraiser. Show starts at 2pm. Manhattan New School, 1st floor cafeteria, NE corner 2nd Ave & 82nd St. NYC. $10.00 Tickets at the door.
MAZARIN included in LI Musicians Hall of Fame Listing! Check it out scroll the page and click on the MAZARIN link.
Pretty cool: http://limusichalloffame.org/lirock/145.bands-2.html
MAZARIN - Back in the day history blog written by a former mystery MAZARIN crew member??? This appears on Twisted Sister's website. Thanks & shouts to our friends Dee, Jay Jay, Mark, Eddie, AJ & JW! A fun read about what it was like back in the day, hey! EARLY CONFESSIONS OF A NEW YORK, ROCK 'N ROLL ROADIE: http://twistedsister.com/mike-12.html
NEW MAZARIN DVD RELEASE from Morty's Vault. Wow, this is so cool. A must for every MAZARIN fan. MAZARIN 1983 Live at Rumrunner. 13 MAZARIN originals and some classics. Doug, Marc, Kirk, Tommy and special guest Ronnie Cusmaro. Great footage from Labor Day Weekend 1983. To order, email mortmaz@hotmail.com $20.00.
Cliff's Jam November 20th, 2003 at The Supper Club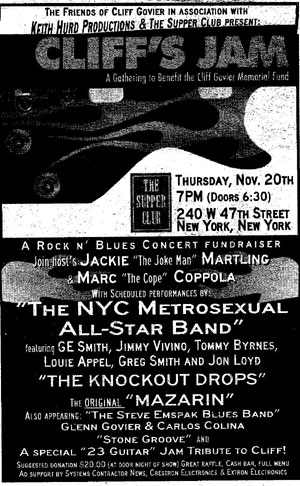 MAZARIN performed as part of a special night to benefit the family of a friend and colleague Cliff Govier. Cliff, a talented and creative guitarist was struck down by lighting while vacationing with his wife and little children at the Jersey shore in Aug 2003.
Marc Mazarin helped to organize a group to come to the aid of his family. Steve Emspak, Felix Robinson, Glenn Govier, Mike Sinclair, John Cardone, Louie Appel, Keith Hurd and Stacy Reyman all stepped forward to get it across the finish line.

When friends were called, they came. These friends and performers included....Jimmy Vivino, Doug Mazarin, Tommy Williams, Scott Duryea, Louie Appel, GE Smith, Jon Loyd, Tony Shanahan, Jackie Martling, Marc Coppola, Tommy Byrnes, Greg Smith, Tommy Mandel, The Movin Out Band, The Hawaiian Tropic girls, The Knockout Drops, The Drunk Unkles, Stone Groove, Carlos Colina, Joe Russo, Q-104FM, The Supper Club St. Louis Music, and Extron & Crestron Electronics.
The night's finale included a 23 Guitar Player Jam to play tribute to Cliff and note his extensive collection of guitars. The generosity and efforts of many made this a night everyone could be proud of. For a more complete listing of the sponsors and participants click to cliffsjam.com/acknowledgements.htm Information is available at this website on where to continue to help Cliff's family. A commemorative DVD is presently in production and will be available in 2005 with profits continuing to the fund.
Photo credit's Dave Erfer, Harvey Hochlerin and Lori Hochlerin
Click the pics to enlarge and read a caption!

Marc and Scott featured on latest release from Detroit Rocker, Michelle Penn her new CD "Last Laugh". Look for NYC-2003 fall dates!

Tony Bruno on tour break from Enrique Iglesias band joins the group for a smoldering evening of music at The Memory Motel in Montauk. Full story

2003 Memory Motel Montauk Dates
Sat, July 12th, Sat August 8th, Sat Sept, 27th
Click the pics to enlarge and read a caption!
New World Home Cooking
OK Club Band announces New World Home Cooking first year anniversary show. Friday, August 22nd. Many special guests and giveaways.

The OK Club Band welcomes Albert "O" as our new booking agent. Exciting new dates being scheduled for Fall-Winter '03.

Tom SF launches new website Fliptrax.com. Keep current on all OK Club Band and Vagrants musical news. Congrats to Tom, Peter and the rest of the New Vagrants on their recent sold-out show in Brooklyn!

Guitar slinger Tommy Brynes of the Billy Joel Band and Musical Producer/coordinator of Tony Award Winning Broadway Show & Soundtrack Movin' Out stopped by to join the OK Club Band on stage at Hog's & Heifers Uptown Saloon, NYC.

Chef-Guitarist-Singer, Ric Orlando joins the Band onstage with Drummer Louie Appel at New World Home Cooking (Woodstock).

Marc sits in with Woodstock music legends Uncle Funk at the New World July 3rd, Luau party.



Click the pics to enlarge and read a caption!



MAZARIN-OK CLUB BAND Alumni news:
Drummer Louie Appel out on tour with GE Smith! louieappel.com

Tommy "Mazarin" Williams releases his long awaited first CD "Two Hundred".
Features OK Club member Scott Duryea on Bass.





Page 2 >>

Top